Design-Led RIBA Chartered Architects Creating Sustainable & Contextual Contemporary Architecture

Welcome to our online portfolio. We are a small passionate architects practice based in Bangor Co. Down, priding itself in giving a personal service aimed at providing a fresh and innovative approach to the design of buildings and their interiors
SERVICE
The RIBA summarise concisely the benefits of using a qualified Chartered Architect.  The RIBA plan of work best describes the project stages that can be applied to any building works, a list of services is associated with each work stage.  Selecting from the list of services required defines the Architects appointment for that particular project.
WHY USE A CHARTERED ARCHITECT?
We are trained to take your brief and can see the big picture. We look beyond your immediate requirements to design flexible buildings that will adapt with your changing needs.
We solve problems creatively
When involved at the earliest planning stage, we gain more opportunities to understand your needs,develop creative solutions, and propose ways to reduce costs.
We can save you money by maximising your investment.
A well-designed building can reduce your bills now and increase its long-term value.
We can manage your project from site selection to completion.
We can co-ordinate a team of specialist consultants such as landscape architects, engineers,quantity surveyors, interior designers, builders and subcontractors.
We can save you time.
By managing and co-ordinating key project elements we allow you to focus on your own activities.
We can help your business.
We create total environments, interior and exterior, which are pleasing and functional for the people who live, work and do business within them
We are an RIBA Chartered Practice and as such are obliged to hold the appropriated professional Indemnity Insurance and maintain the requirements of Continued Professional Development.
Most importantly, I believe, we offer you choice, of solutions, suppliers, materials and design.
THE RIBA PLAN OF WORK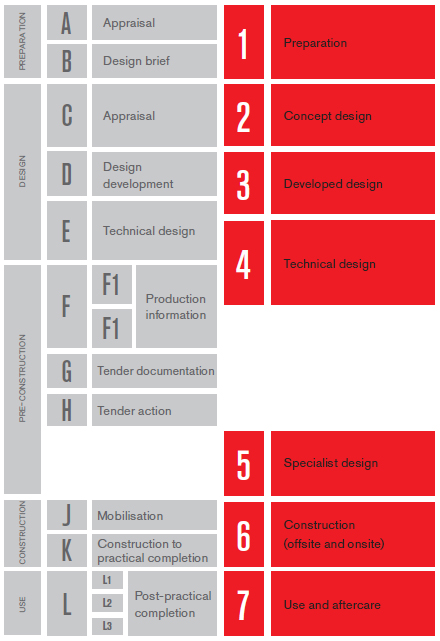 SCHEDULE OF SERVICES
The small Project Services Schedule Summarises the stages for a project of simple content.
AB   Preparation
Visit the property and carry out an initial appraisal
Assist the Client in preparing their requirements
Discuss alternative solutions for the project
Advise on the need for services by consultants or specialists
Make or Arrange: survey of site and /or buildings.

CD Design
Prepare a preliminary design and discuss with the client
Develop final design
Provide information for an approximate estimate of cost
Submit the final design proposals and approximate cost for approval
Make an application for detailed planning permission.

EFG Construction Information
Co-ordinate and integrate any designs provided by others
Prepare drawings and other information in sufficient detail to enable a tender or tenders to be obtained
Make an Application for Building Regulations approval
Prepare a specification or schedule of work
Advise on an appropriate form of building contract, its conditions and the responsibilities of the Client, the consultants and the builder.

H Tender Action
Prepare documents required for tendering purposes
Advise on potential builders to be invited to tender for the work
Invite, appraise and report on tenders

JK Construction Work
Advise on the appointment of a builder
Prepare the building contract and arrange for it to be signed
Provide the builder with information required for construction
Visit the site to see that the work is proceeding generally in accordance with contract
Certify payments for work carried out or completed.  Advise on final cost
Provide or obtain record drawings showing the building and its services
Give general advice on maintenance
L   After Handover
Make final inspection and advise on resolution of any defects
Agree final account and issue a final certificate.

FEES
The fee we charge relates to the project size and complexity and the  amount of work we will have to do.  By reducing the scope of our services we may be able to reduce the fee but this could increase the risk to you.  In our experience clients save on project cost by getting the design right before starting construction and not changing things during the build.  Very often it turns out that this saving is greater than the amount clients spend on architects' fees.
Traditionally a percentage of construction cost is used for particular building types.
Where the work is clearly defined we can agree calculated lump sums, based for example on estimated construction cost at the start of each work stage.